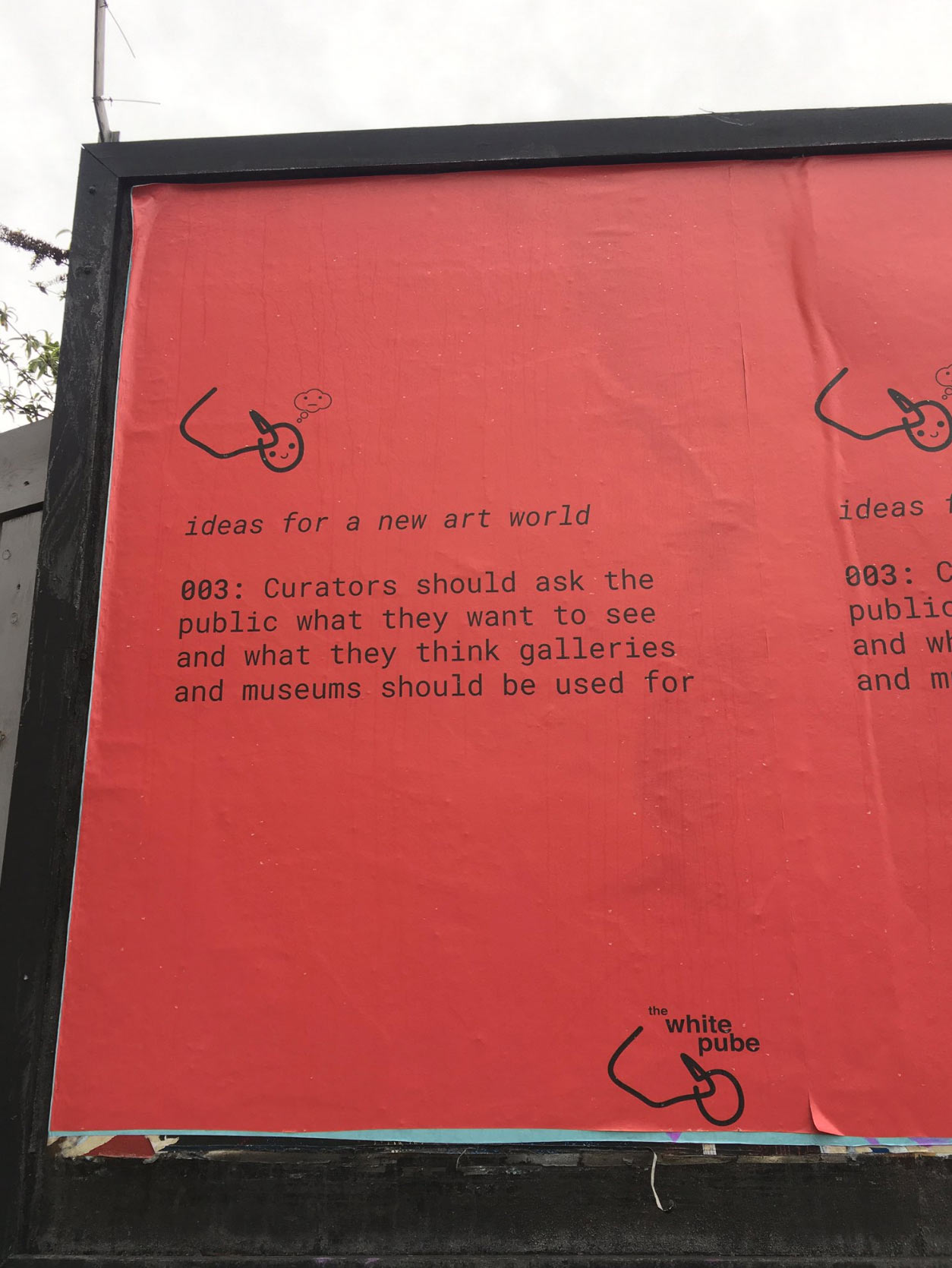 At the moment, series of billboards deck the walls of London and other cities in the UK. The billboards call for more transparency within the art world, universal basic income, and simply for racist paintings to be removed from the walls of official art institutions, such as the Tate. Behind the billboards is a duo that calls itself The White Pube. Gabrielle de la Puente and Zarina Muhammad approach art with genuine affection as well as everything and anything. Their goal is to achieve a personal approach to something that we call the "artworld" and is often a quite impersonal or unapproachable phenomenon, especially when discussing it and within art critique.

The name, The White Pube, is a reference to and a parody of a gallery chain called The White Cube, which has locations in multiple places worldwide; the name, thus, achieves to be both funny and a critique in itself. A white cube is often thought of as some kind of space where it is possible to leave the environment behind, outside of the cube — the walls of galleries are painted white because it is the art itself that should be enjoyed without distraction. Life can wait outside of the gallery and the everyday routine and stress shouldn't affect the enjoyment or feelings expressed through the artwork, leaving the viewer free of distractions to make their own interpretations of the works.
But does it work like that when looking at art? If they have one question to pose, then I think this would be it. Is the artworld free from the day-to-day patterns?
The answer is no, far from it. And with this no, the duo sheds light on broad spectrum of topics. The topics range from the beginning of the process, the making of an artwork, the opportunity to study art to the end result, which is on display or will be perceived.
Firstly, the viewer is not impartial, although the space is empty. The viewer could be in a bad mood or maybe in love: and finds everything extremely cool or horrible. Subjective recognition of an artwork from our point of view is just as valid if we are educated to "understand" the references being made or not. We can simply find something uncomfortable, a movie sad or a song boring because the weather is terrible and our feet are wet. Secondly, people and groups do not have equal opportunities to become artists. For example: how can artists afford to be artists? A big question asked on one of their billboards: 004: "People across the creative industries need to declare if they have rich parents who helped them get where they are today."
It is not merely about being an artist: it is also about the applications, the rent and the time that goes into working alongside an artistic practice. How do visual artists apply for funding? What effect do these financial concerns have on art?
Transparency is, therefore, one of the issues they emphasise. Transparency can be hard to come by at a chaotic career as it can be in the arts. They publish what they get paid each time on their website and they are not funded by institutions. There is also a funding library with examples of projects that have gotten grants or funding (in the UK). Transparency can also be fun and genuine, since it is not the contrary to fun. Not all groups have equal access to information. This fact is downright sad, maintains homogeneity and restricts those same groups' possibilities to create art and exhibit it.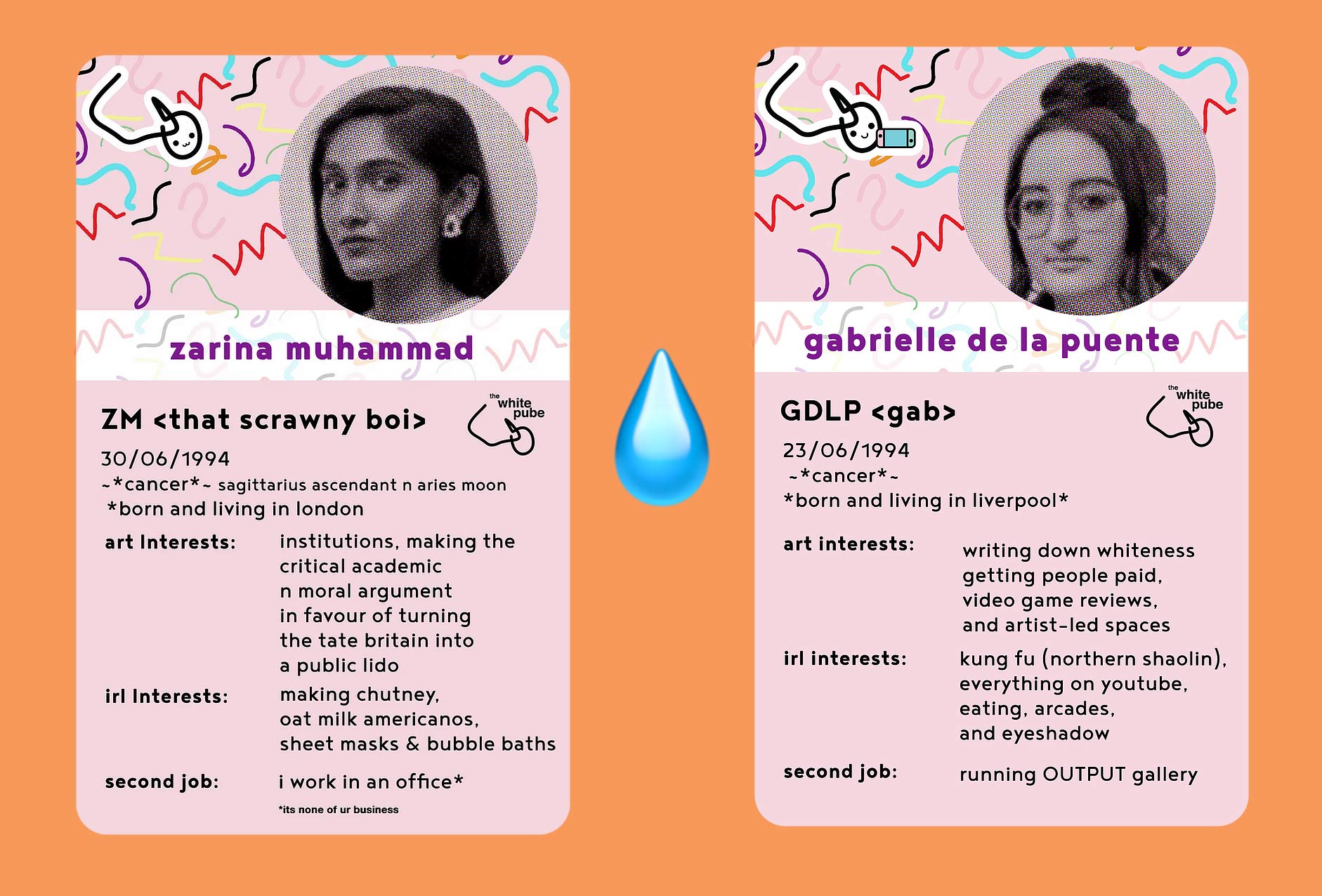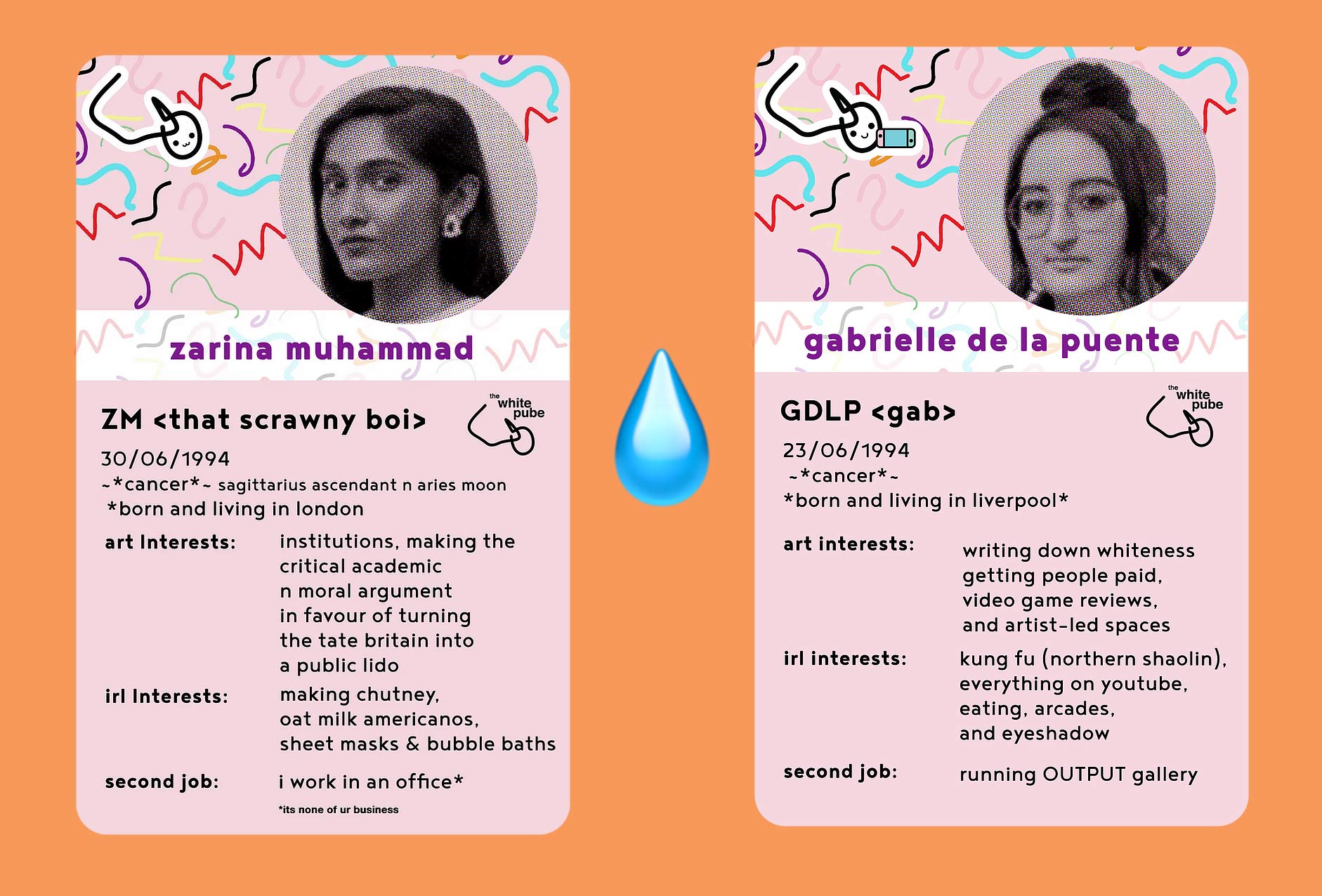 I took my time deciding what role models I would write about in this article. Role models can be of all kinds and of all genders. Who should I write about? There are so many I could choose: dead or alive? Old or young?
One morning as I was scrolling through Instagram, I saw a post by The White Pube. I thought to myself: "they are sooo cool — why am I not as confident expressing myself online as they are? How do they have such a genuine internet presence?" and I slowly came to terms with the fact that I was a little jealous — I mean they're smashing it!
Thus, I chose them as my role models. Instead of wallowing in the fact that my jealousy was a sign of bad character (which my character usually is in the morning), I thought to myself that my jealousy was a sign of them doing something I would like to be doing but didn't dare to do myself. Maybe I just want to be more authentic online. But what does it mean to be authentic online?
It might be connected to their output; they publish articles once a week and are popular on Instagram. However, it might seem easy to be genuine on your own personal website, but other platforms such as Instagram evaluate the content by different metrics. Therefore, the measures are a bit difficult, especially when it comes to being genuine. Many have a hard time finding that middle ground between "being themselves" and being only a representation on the platform. The White Pube succeeds in finding a sweet spot. A great mixture of tackling issues and showing personality is one of the things about them that captured me. The reader can disagree and creating an echo chamber is not what matters because it is the conversation itself that is important.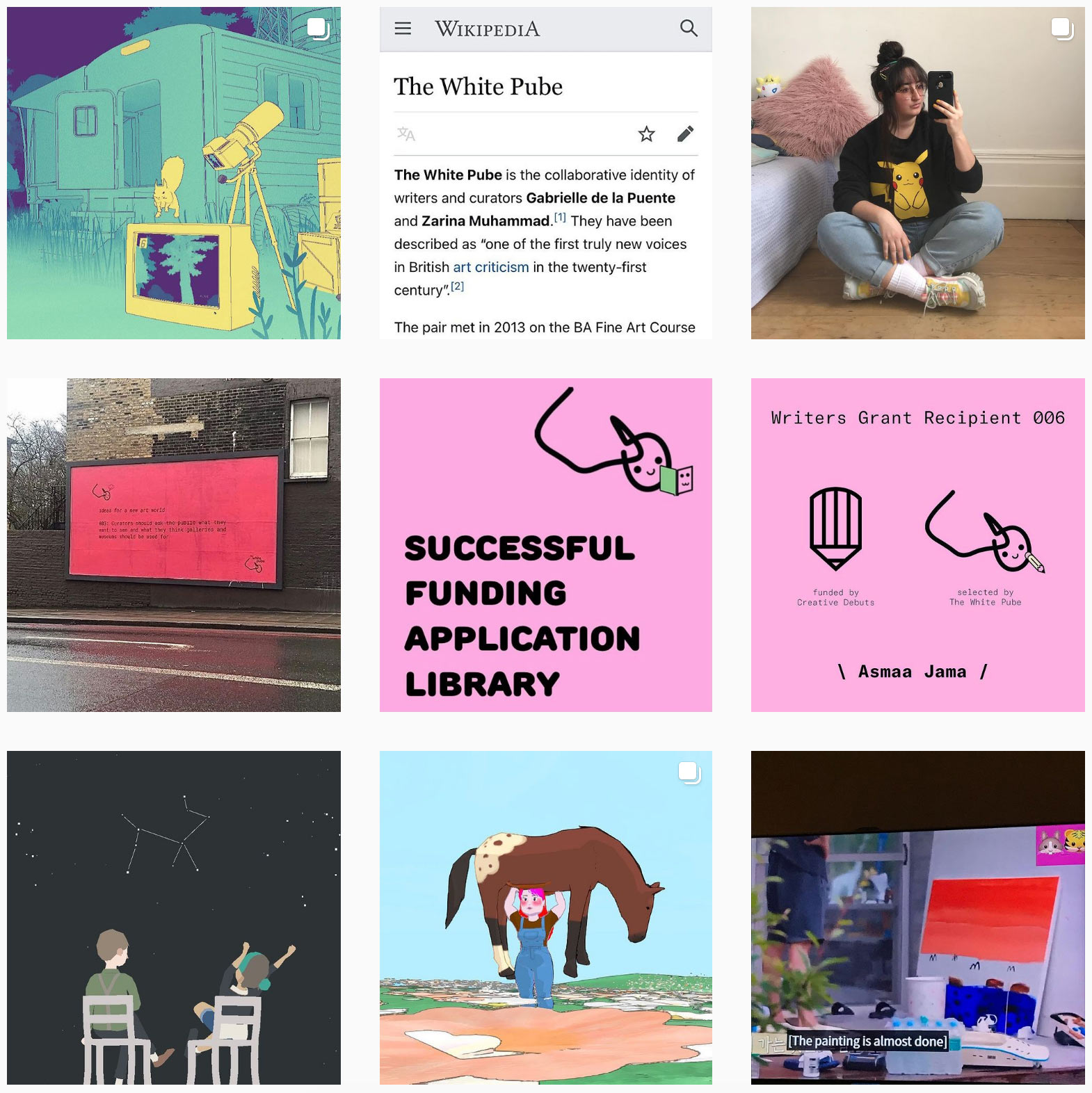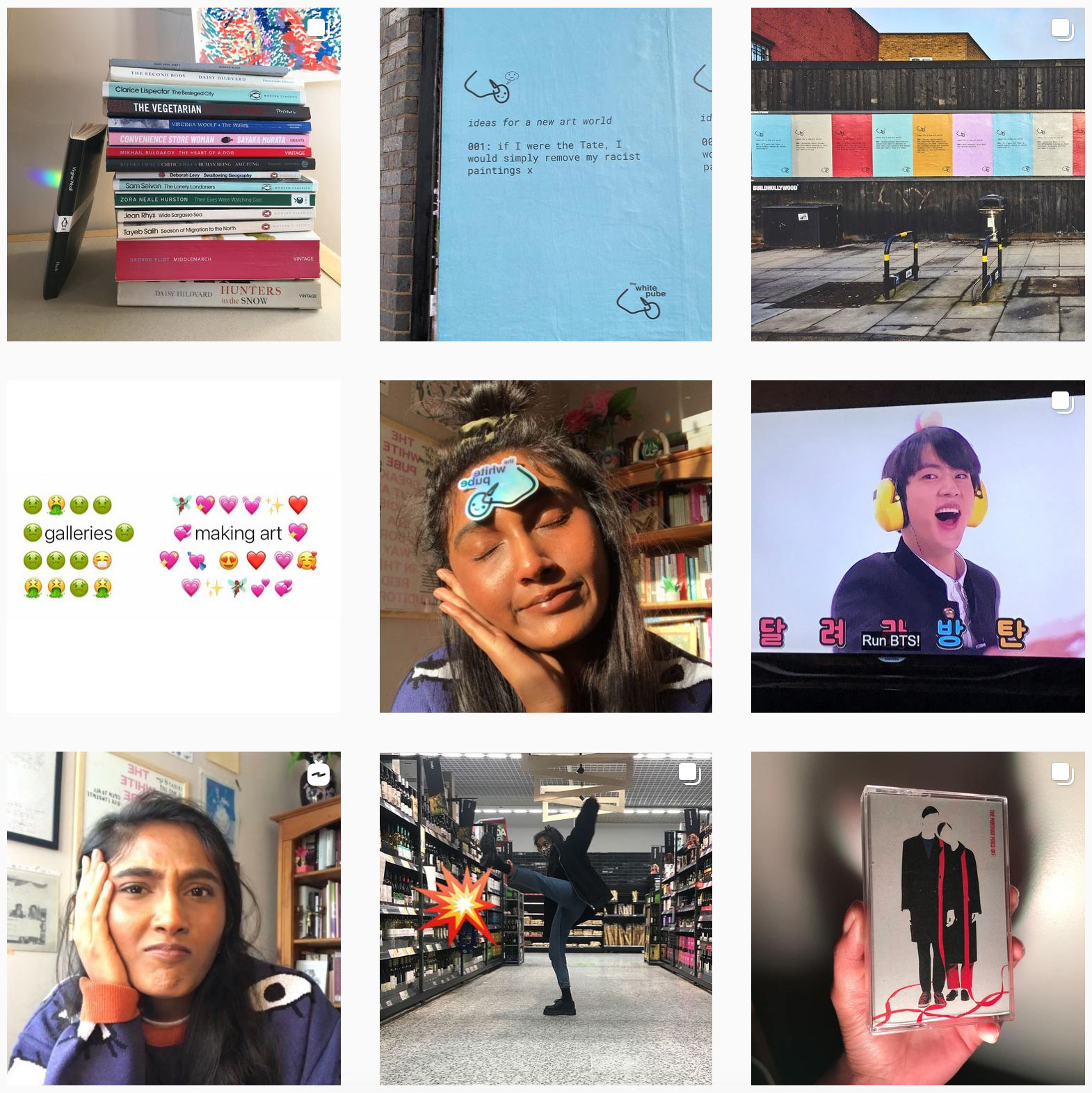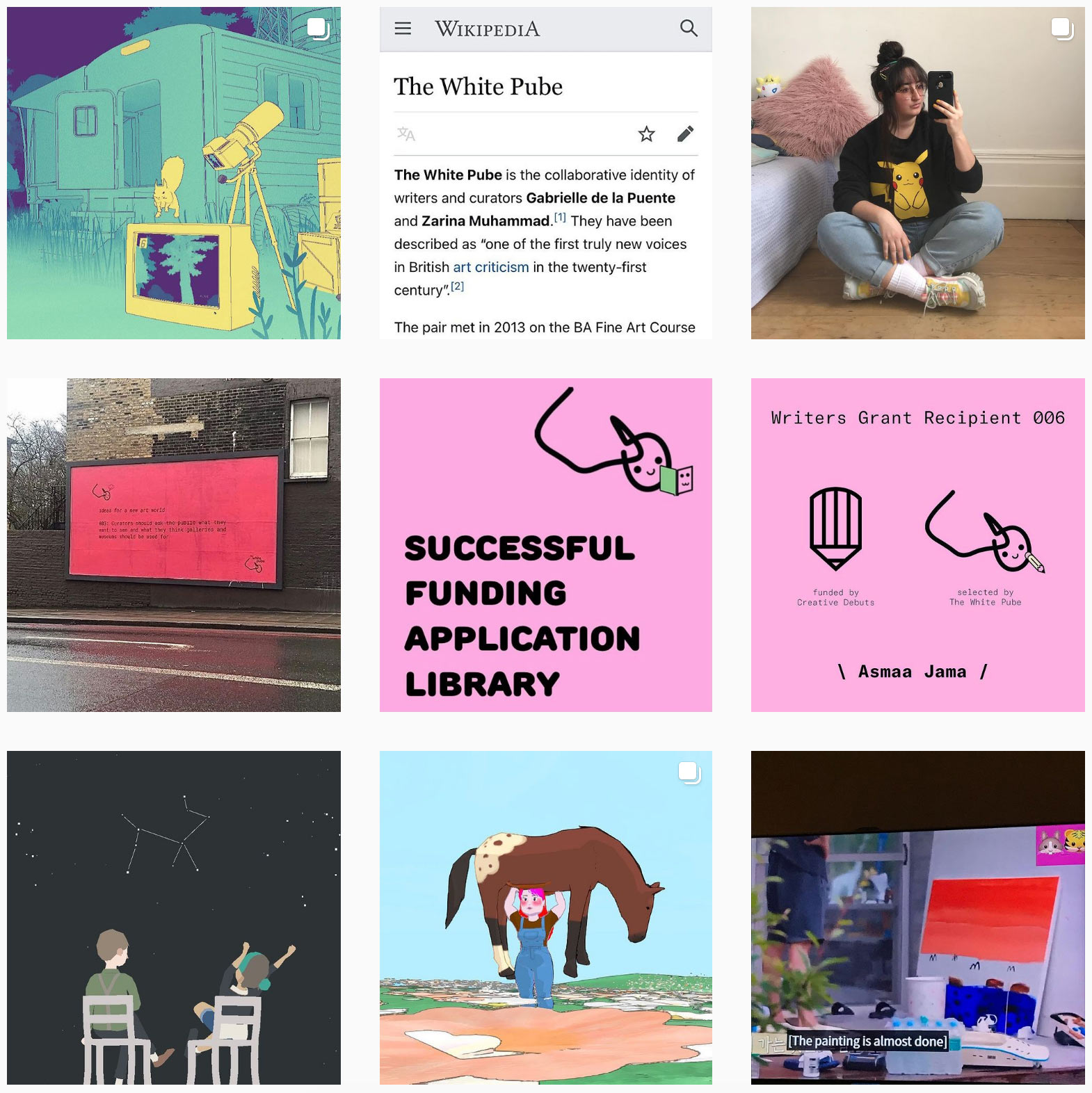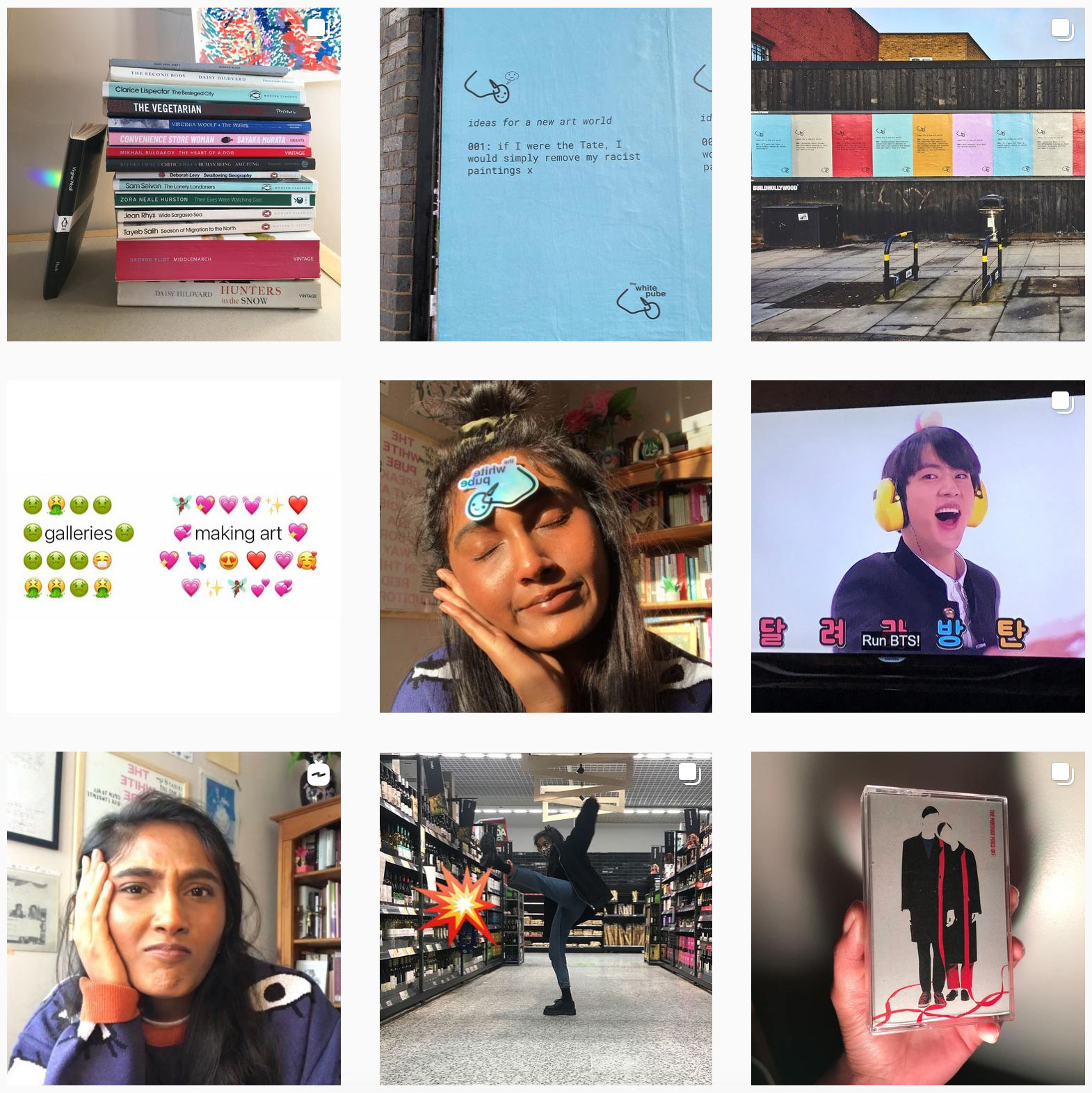 Their goal is raw and the approach is so as well. The duo doesn't call for an overturn of our contemporary society, but an everyday critique of issues that we should think about and change, but will not change except if the conversation goes on. It doesn't need to be arduous. In the duo's authentic way, they press the importance of fun. They don't put boundaries on what the writing should be about and are, therefore, able to write genuinely and from the heart. One of them started, for example, to critique games instead of art because it inspired her more. It is possible to be critical and earnest without being mean (which is a lousy trope that should be binned anyway).
There are individuals, young and old, who are working on changing our today, and it is essential to recognise that to celebrate it. Join the movement, be a little more genuine online, admit the unequal division of information and participate in the change. I think that the message that The White Pube delivers can also be applied to most other groups or career paths in our society: Whether it is in politics, in business or in our personal life — then we can ask ourselves: is everyone equal when it comes to money, opportunities and information? We all know that it is not the case; we should stop acting like it because it's oppressive. So, the more we dare to address it the better — especially when we do so genuinely.

— — —
References:
www.tate.org.uk/art/art-terms/w/white-cube
www.thewhitepube.co.uk/podcast-origin-story
— — —
Look at The White Pube's website here.
Follow The White Pube on instagram here.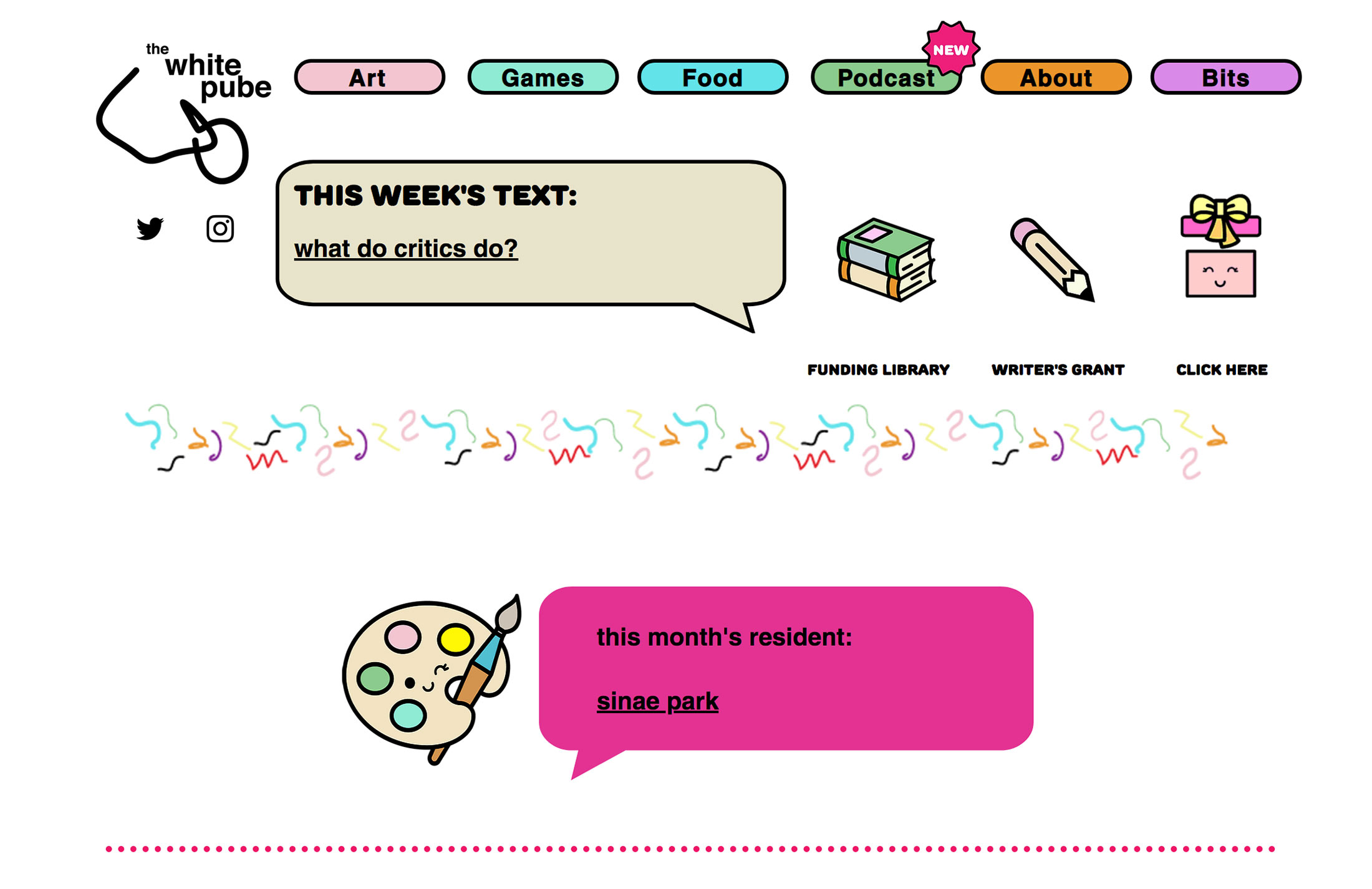 — — —
Do you support Vía?
Vía counts on your support. By subscribing to Vía you contribute to the future of a medium that specializes in, and puts emphasis on equality and diversity.
Vía, formerly known as Flóra, was founded 4 years ago for critical readers that want to dive underneath the superficial layer of social discussion and see it from an equality, inclusion, and diversity perspective.
From the beginning, Vía has covered urgent societal topics and published issues and articles that have shone a light on inequality, prejudice, and violence that exist in all layers of society.
We emphasize publishing stories from people with lived experiences of marginalization.
Every contribution, big and small, enables us to continually produce content aimed to educate and shine a light on hidden inequalities in society, and is essential for our continuing work.
Support Vía
‹
›