The year before I started my university studies, and the first two years of my studies I made a yearly salary of two million ISK, before taxes. Over these two years I got two million ISK in student loans. I wasn't entitled to any more because my income was too high.
During this time I was renting a studio apartment in a basement, that only had one window that I could open when I stood on top of the kitchen counter, I was paying down a bank loan after a failed attempt of going to university abroad at a time when The Icelandic Student Loan Fund didn't give out loans for Bachelor studies abroad. I also had an old car to get from my school to my job. So I wasn't exactly living it up on my student loans, like those that set the laws around The Icelandic Student Loan Fund sometimes seem to think we students are.
All together I probably had more than some others but after paying my bills, or about 30-60.000kr. each month, it was still too little and I managed to get myself into debt along with ruining my credit score. A position that I'm first getting out of now, 11 years later, and I'm still in university.
One very simple way to try to make the position of university students in Iceland more equal is to try to ensure that their financial position is as equal as possible. A student loan institute punishing students for working with school is not a way to do that.
I don't know about a single student that works with school to be able to buy expensive brands or to go to expensive restaurants many times a month. Most of us work just so that we can afford to live, and maybe so that we can allow ourselves one toast with avocado on the weekends.
The last thing I needed while I was studying was financial worries and then troubles. I don't come from a family that is well-off, I had to move to Reykjavík on my own to go to university, I had a loan that I wanted to pay down as quickly as I could and lika way too many students in Iceland I've been working with school since I was thirteen.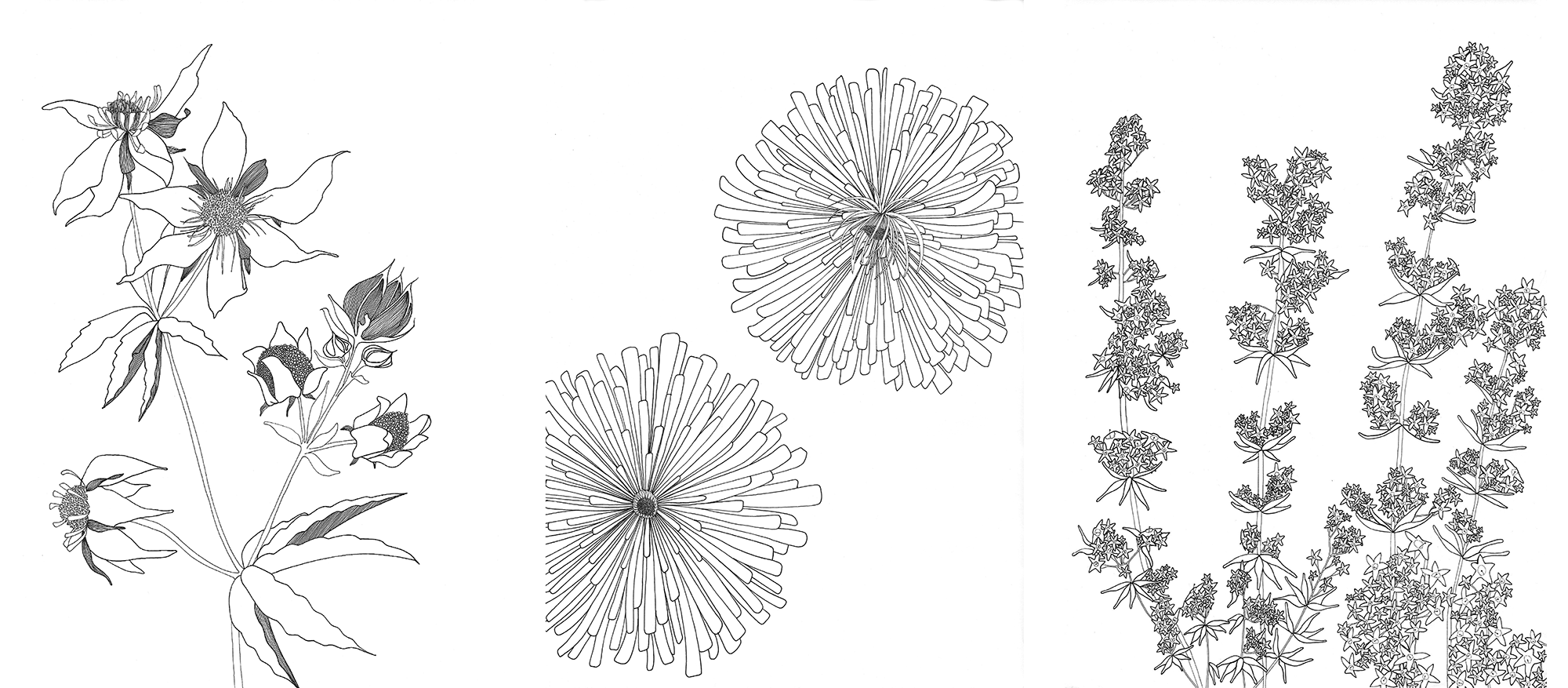 [The drawings above – Engjarós, Túnfífill and Gulmaðra – along with more drawings by Tinna Eik are available in print here at Uppskera listamarkaður.]
My graduation for my masters is planned for this spring, that means that two degrees, that under normal circumstances would have taken me 5 years, have taken me 11 years to finish. In some ways this huge delay is because of endless moving around and challenges in my personal life.
The main factor that is to blame though, is financial worries and a huge amount of seemingly never ending work load, that brought stress, fatigue, and the feeling of failure. On average my school and work load over the years has been as if I was working a 170% job.
A lot of things have changed since I first started going to university, one of those things is that students that want to take student loans are not punished as harshly as before for the income they have before starting school. But there are so many things that we can do better, and we need to take bigger steps that take into account different status of different students to try and make sure that everyones' status is as equal as possible throughout their studies. One of the steps we need to take is to raise or abolish the lending criteria when it comes to students that work alongside their studies.
— — —
Styrkir þú Vía?
Vía treystir á þitt framlag. Með því að styrkja Vía tekur þú þátt í að halda uppi miðli sem lætur sig jafnrétti og fjölbreytileika varða.
Vía, áður þekkt sem Flóra útgáfa, hefur verið starfandi í 3 ár fyrir gagnrýna lesendur sem langar að kafa undir yfirborðið á marghliða samfélagsumræðu út frá jafnréttissjónarmiðum. Vía hefur frá upphafi fjallað um aðkallandi málefni líðandi stundar og birt fjölda einstakra pistla sem hafa varpað ljósi á ójöfnuð, ójafnrétti, fordóma, íhaldssemi og ofbeldi sem finna má á öllum stigum samfélagsins. Við leggjum áherslu á að upphefja frásagnir þeirra einstaklinga sem valdakerfi fara hvað verst með og valdefla raddir fólks með lifaða reynslu.
Hvert einasta framlag, stórt eða lítið, gerir okkur kleift að halda uppi gagnrýnni jafnréttisumræðu og er ómissandi fyrir áframhaldandi starf Vía.
Styrkja Vía
** Kíktu við á
Uppskeru
, listamarkaðinn okkar **