Every month, a few drag shows are put on in Reykjavík where various drag artists perform. The scene here has often been described as unique due to the unity and diversity that rules, these qualities are not too common in scenes abroad. In fact, foreign artists have often praised this speciality. I, the author of this article, am a member of this scene. I am a drag queen.
Drag is….
Defining drag as one particular thing has always proved to be difficult for me. The art of drag is magical and if you want to understand it, I encourage you see it with your own eyes. Come to the next show and experience the magic.
At its core, drag is expression. It is based on the interplay and dissection of gender and stereotypes. In its simplest form, drag is acting like or dressing up as an alternate gender to the one you identify as.
In contrast to other mediums, drag is one of the only art forms that embraces all other art forms. In the world of drag, one can expect music, performance art, makeup, design, costume, dance, and much more. Short stage acts are common for drag artists. During these acts, performers usually lipsync, which is when one mimes to music often accompanied by dancing and acting—even soundbites from TV shows or movies. However, drag is diverse. Comedy, drama, politics and deep emotions like grief could all be associated with drag, which is what makes the art form so accessible. Drag is a living creature; it changes and evolves with each artist.
Before the second COVID-19 wave, I had, amongst a beautiful group of fellow artists, organised a drag show entitled Drag is Art. The objective of the show was to showcase just how diverse drag could be, as well as to give performers an opportunity to present what drag personally means to them. Leading up to the show that we, unfortunately, had to postpone, we asked the performers involved to provide a one-word answer to this simple question: What is drag?
The conclusion was that drag is powerful, funny, family, a party, freedom and expression. But the list goes on and on…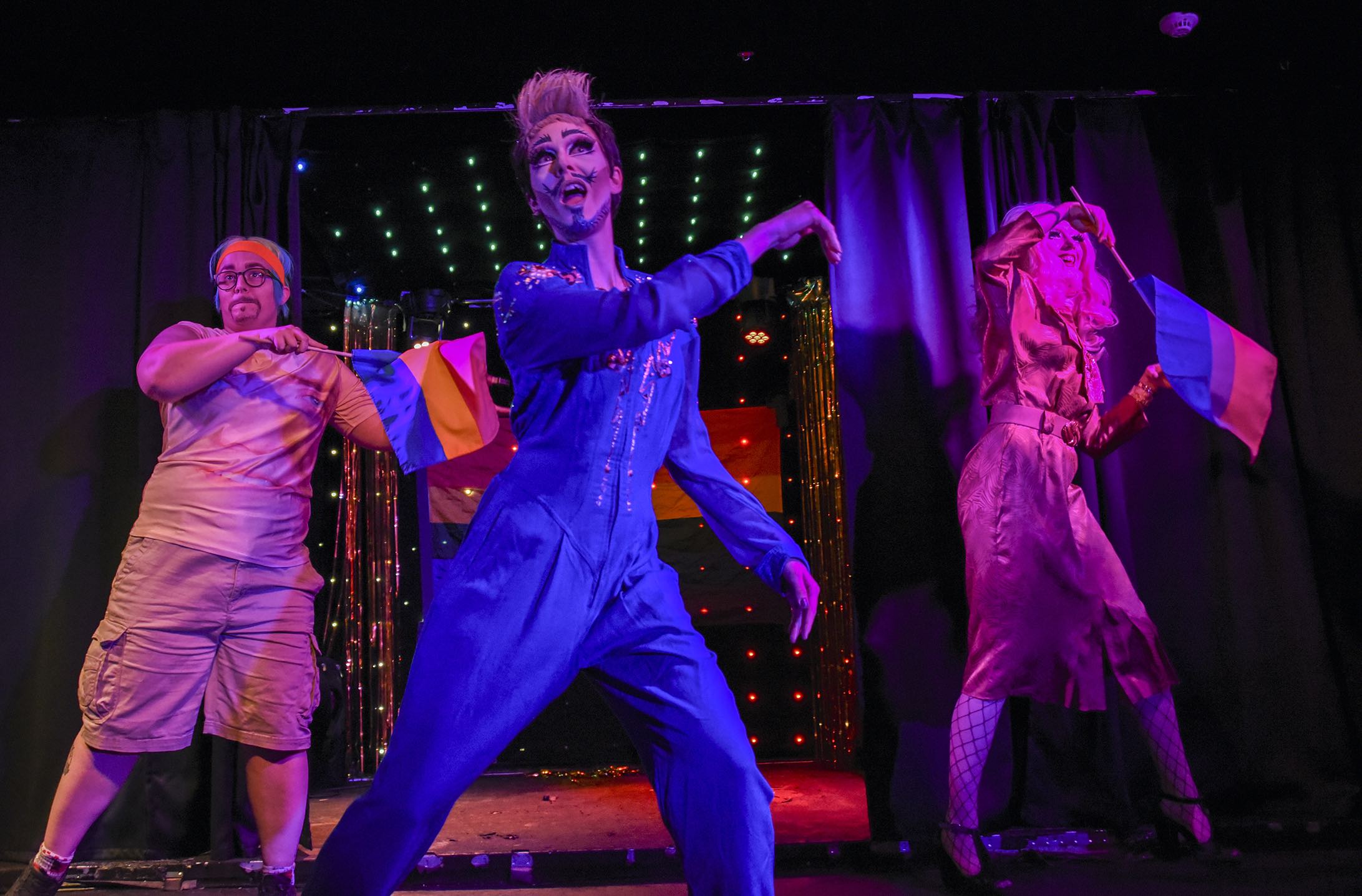 [The dragking Milo de Mix performs the song Getting Bi with his fabulous backup dancers Yannuss Starr and Chardonnay Bublée]
Drag Needs No Gender
When I tell people I'm a drag queen, I often receive strange reactions. The reason is that people are not used to women being involved with the art form, but I am exactly that: A female drag queen. In my art, I toy around with the extremities of the female appearance and explore the strange expectations of women in our society.
[Female drag queens are often called bio-queens ('bio' referring to a biological woman), AFAB-queens (AFAB is an acronym for 'assigned female at birth') or hyper-queens (referring to the exaggerated female images they portray). Women in the drag scene are often drag kings, where they portray male stereotypes and examine topics like toxic masculinity. Additionally, we have a group that here we often call drag-monsters. They are characters that do not necessarily fit within one gender or standard and often criticise classic beauty standards with strange or even scary appearances. In drag, there is no need to fit in the box.]
The mainstream drag that most people recognise is unfortunately almost solely the one which appears on the popular reality series RuPaul's Drag Race, where only men are allowed to participate. This has led to women within the art form having difficulties being recognised and accepted as drag performers. In fact, the form of drag where a man "pretends" to be a woman—the only type shown on RuPaul's TV show—is actually a very small portion of the variety drag offers. The fact is that drag does not call for nor does it require gender—not in the drag character or in the person behind the disguise.
This truth is visible in such a beautiful way within the Icelandic drag scene, where people of all genders perform. Women are a prominent and powerful group here. In fact, there have been shows here that have been completely organised for and occupied by women. Furthermore, individuals that do not identify with the gender binary are also notable in the Icelandic drag community.
The Icelandic scene has been praised for this diversity. Elsewhere, it is not common to see drag queens and drag kings perform together. However, here one can see all types of drag performers, regardless of gender, come together as they pull apart and reshape the rules of gender and drag.
Drag represents diversity and the possibility to be exactly what you want to be. That is the drag that you will find in Iceland.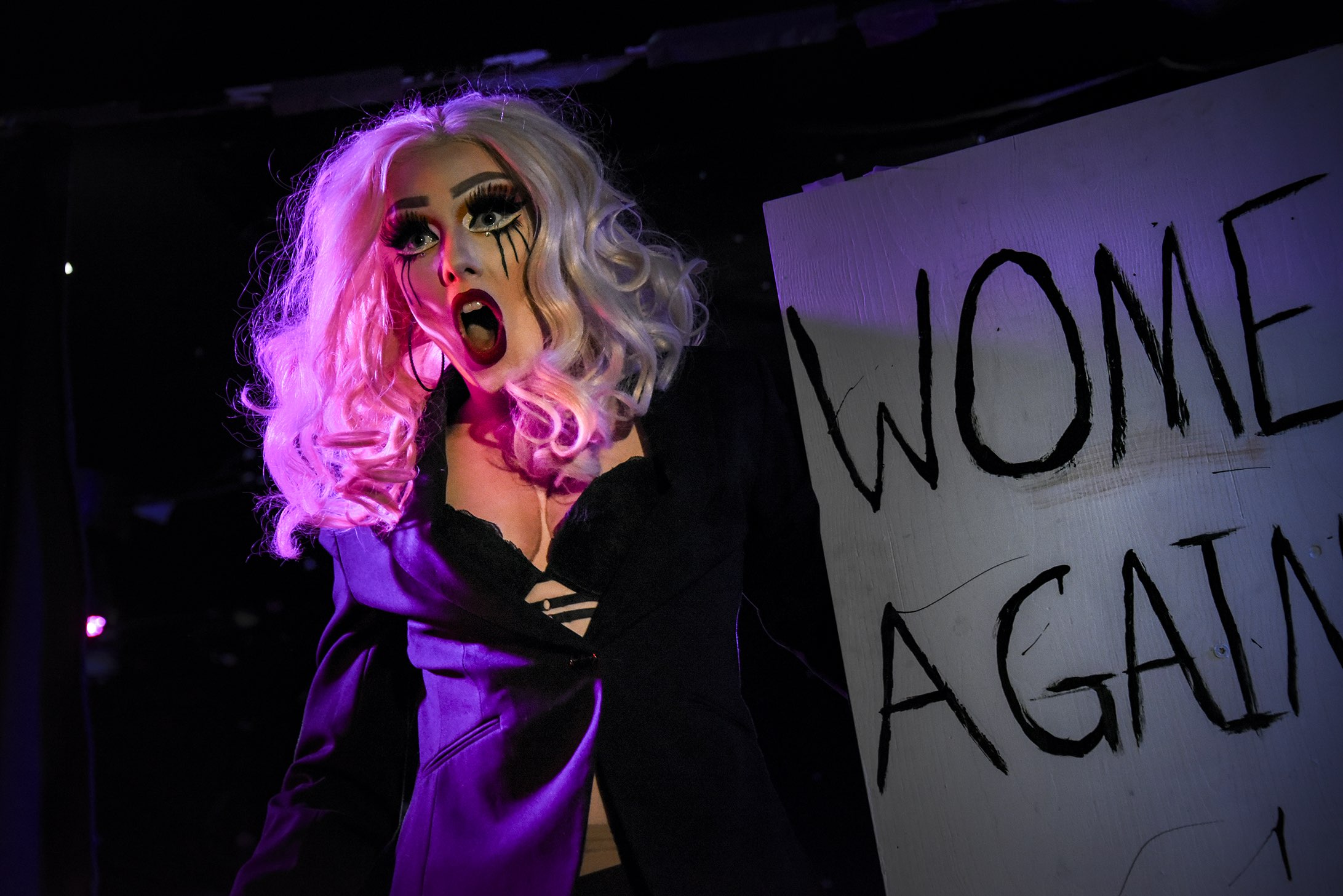 [A moment from the act Women against Trump]
The Solution Is Art
Drag is political, innately so. It requires freedom of gender and expression and therefore goes against traditionally accepted views in our society. It was this fact that initially captivated me and drew me to drag—the opportunities for unhindered expression that the art form offered. Drag acts can take on topics like queerphobia, violence, relationships and much more. Many performers have actually said that drag works almost like therapy for them and I have myself used the platform to process the consequences of abuse, and from that, gained strength. There is a certain power generated when one gets an opportunity to freely express their feelings while a room full of people listens and supports them. A certain strength is generated by having the drag-character by one's side as a safety net, or even as a disguise.
However, with the stage comes responsibility. We, drag artists, have a platform that we can use to raise awareness about important topics as well as to encourage discussion and unity with those in need. Drag performers have long been at the forefront of equal rights—quite literally, in fact—using our art to express and spread the message of tolerance and acceptance. As an example of that, I would like to mention an act I created last year called Women Against Trump—one I will definitely be performing again this fall as we approach the U.S. presidential election.
Considering that drag is a rather fringe art form, there is nothing that hinders us from taking our messages further, from shouting them louder than others. We have always had to defend our expression either way, so being controversial is nothing new to us.
I have often worried about my makeup as I cry in response to the strength and immense beauty that other performers express on stage.
I am grateful to be part of a group where I applaud and adore the courage and beauty of each and every one.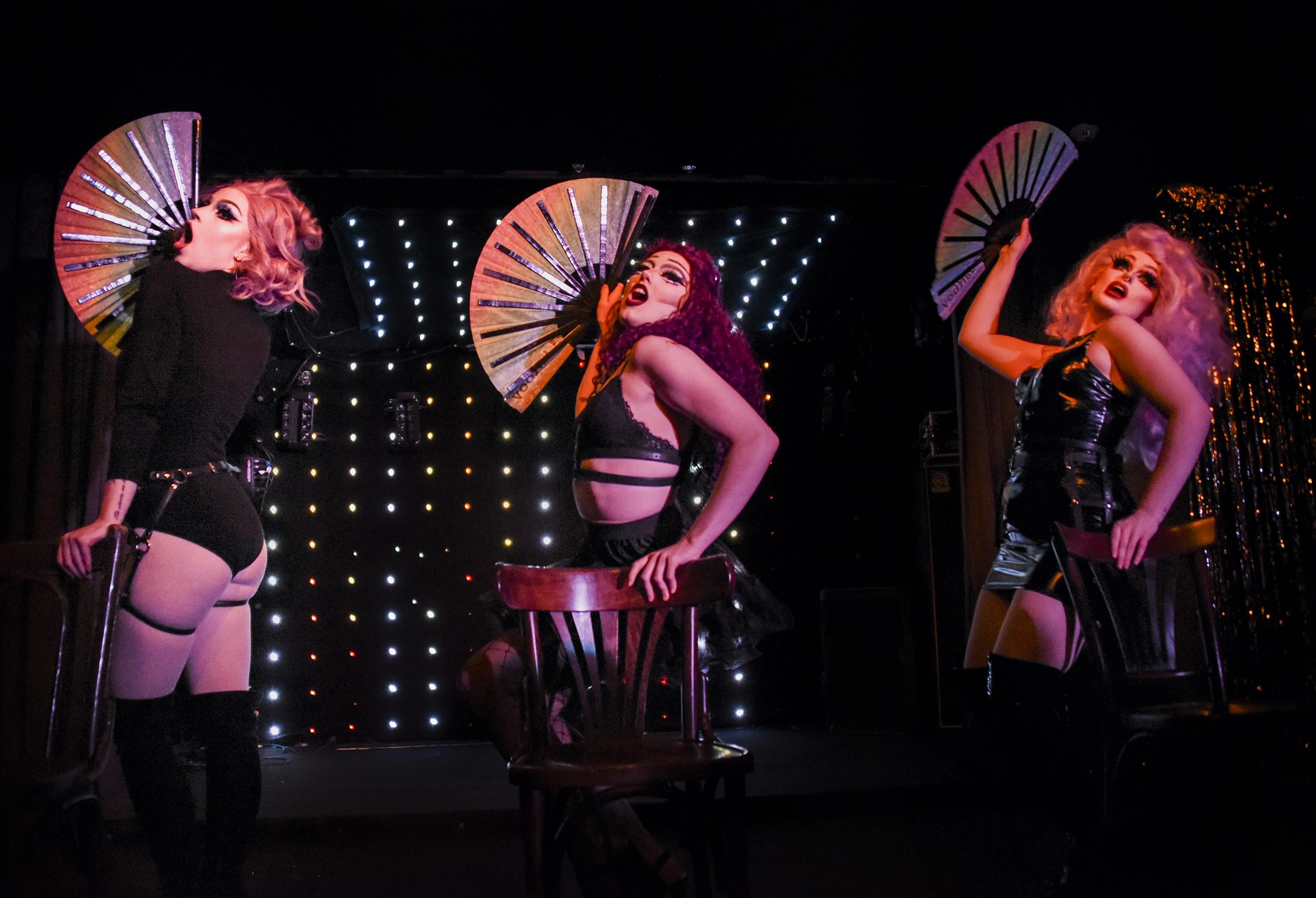 [Jenny Purr, Chardonnay Bublée and Lola Von Heart perform a Drag-version of Cell Block Tango]
Home, Sweet Home
One year ago, I moved to a small town in the United Kingdom, where there was not a drag scene or even a queer scene. I decided to do what I could to create that environment there. This was the first time I realised just how precious what we have here in Iceland is. The support I received here when entering the community was and is still invaluable and has driven me to where I stand today. I now aim to provide others with that same support.
The Icelandic drag scene is a community where art and freedom are the ruling forces. I believe the magic that happens within the community is due to the openness of it all. Diverse personas, opinions and appearances come together and create a magnificent entity. The shows are not designed as competition or an opportunity to prove superiority. On the contrary, they are an opportunity for performers to express themselves and share exceptional moments with the audience and each other.
Taking your first steps into the drag world is easier than it seems. Amongst the shows hosted every month is Drag-Lab, which was created especially for new performers. If you dream of starting to do drag, or are just a tiny bit curious, you can simply send a message to any one of the Icelandic drag performers or just come to a show and chat with us!
Drag does not demand a certain gender, sexuality or experience, only an open mind and a lot of love.
Glóey Þóra Eyjólfsdóttir // Chardonnay Bublée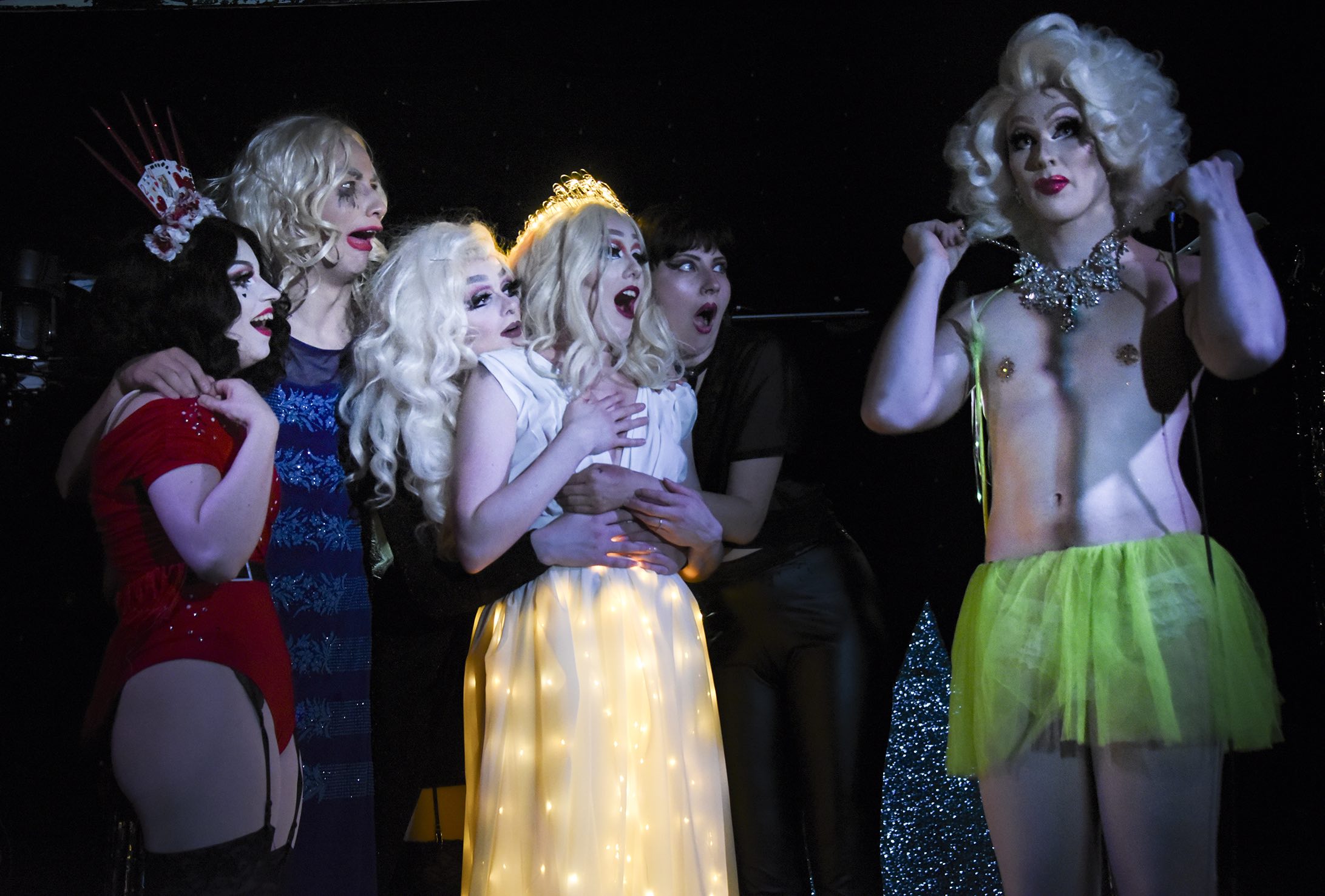 [Gógó Starr grants Chardonnay Bublée a parting gift before she leaves for the UK, Lola Von Heart, Twinkle Starr, Jenny Purr and Manea Nocturna surround her]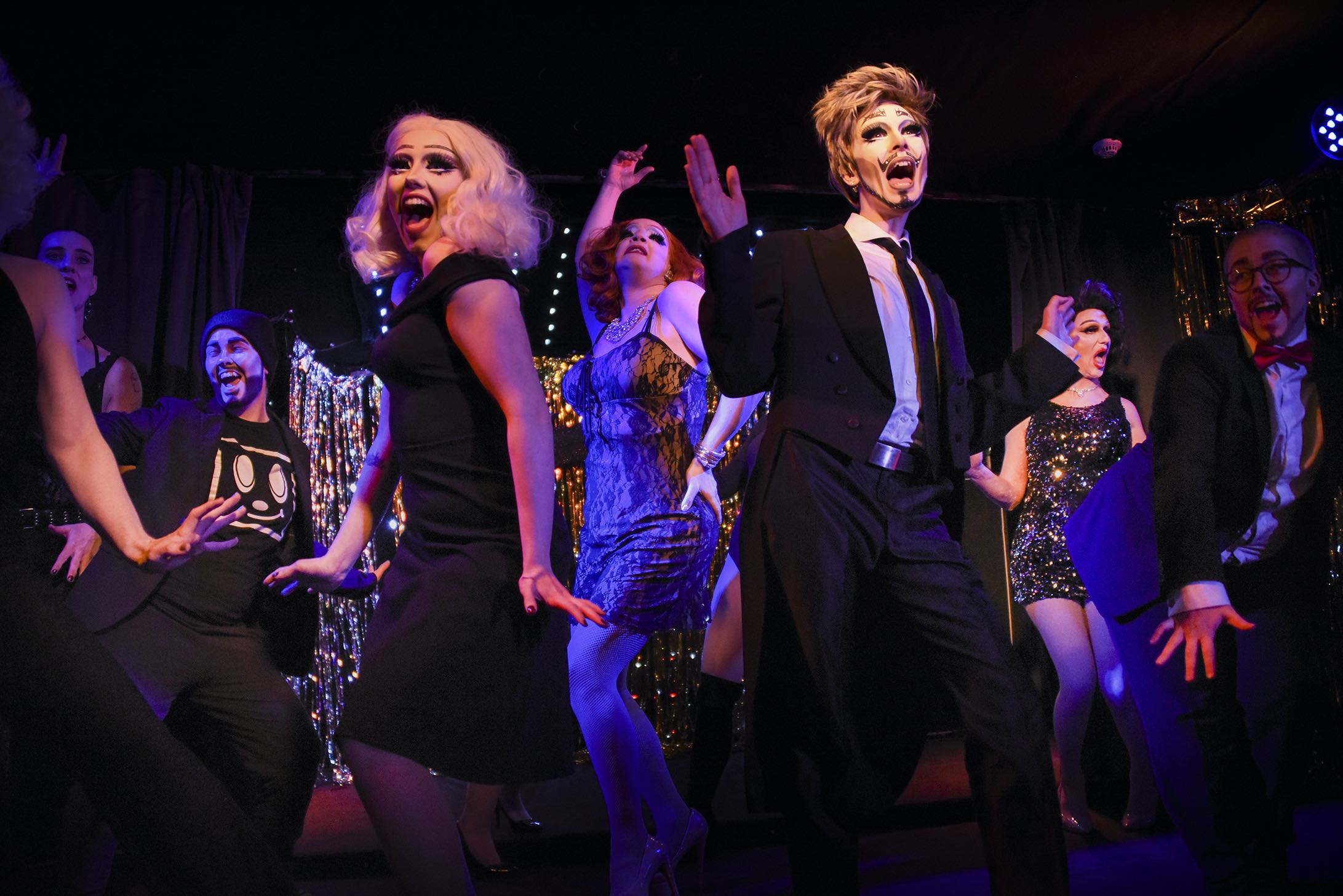 [A portrait of a group-performance in a Drag-Súgur show]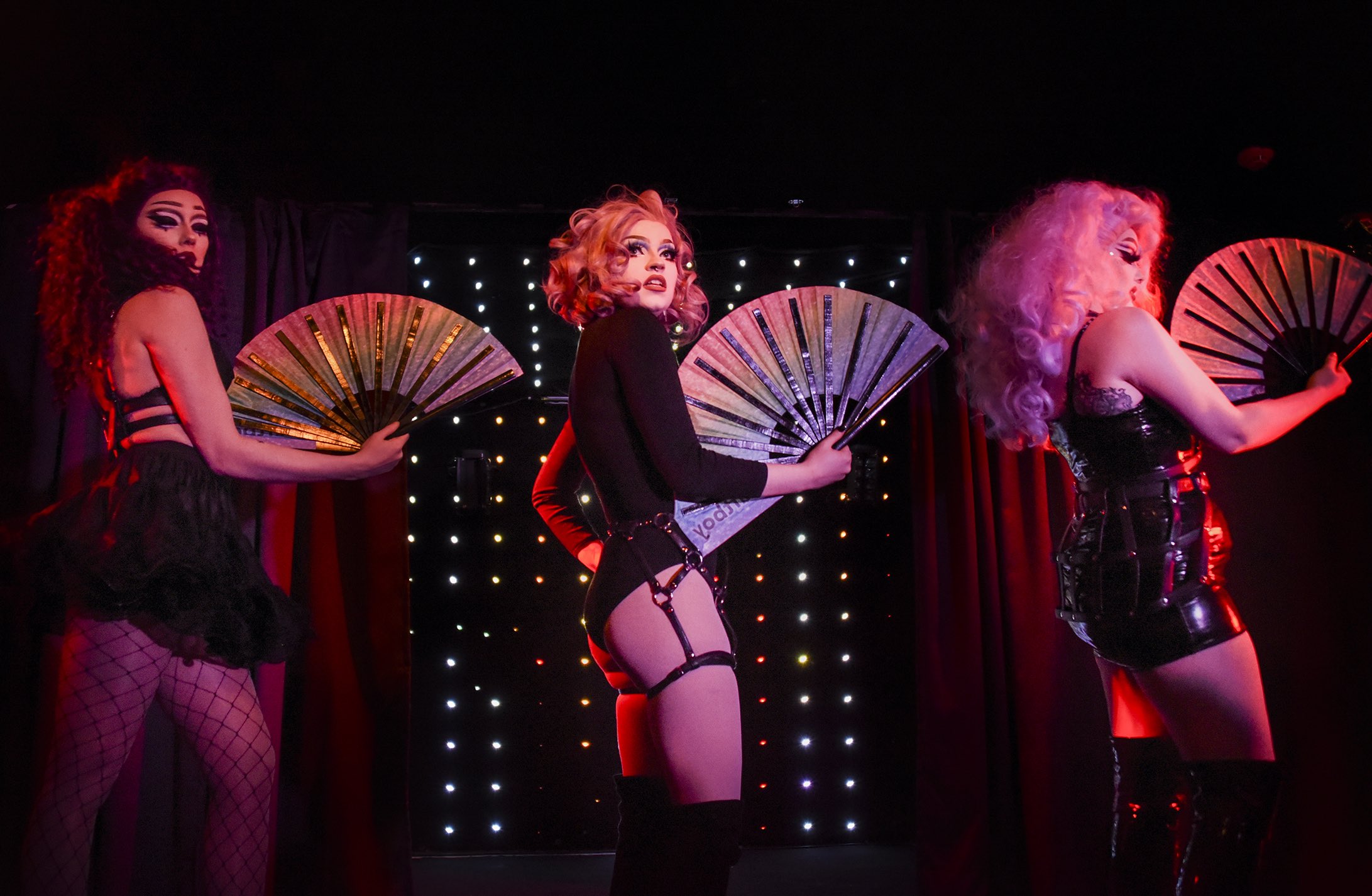 [Jenny Purr, Chardonnay Bublée and Lola Von Heart perform a Drag-version of Cell Block Tango]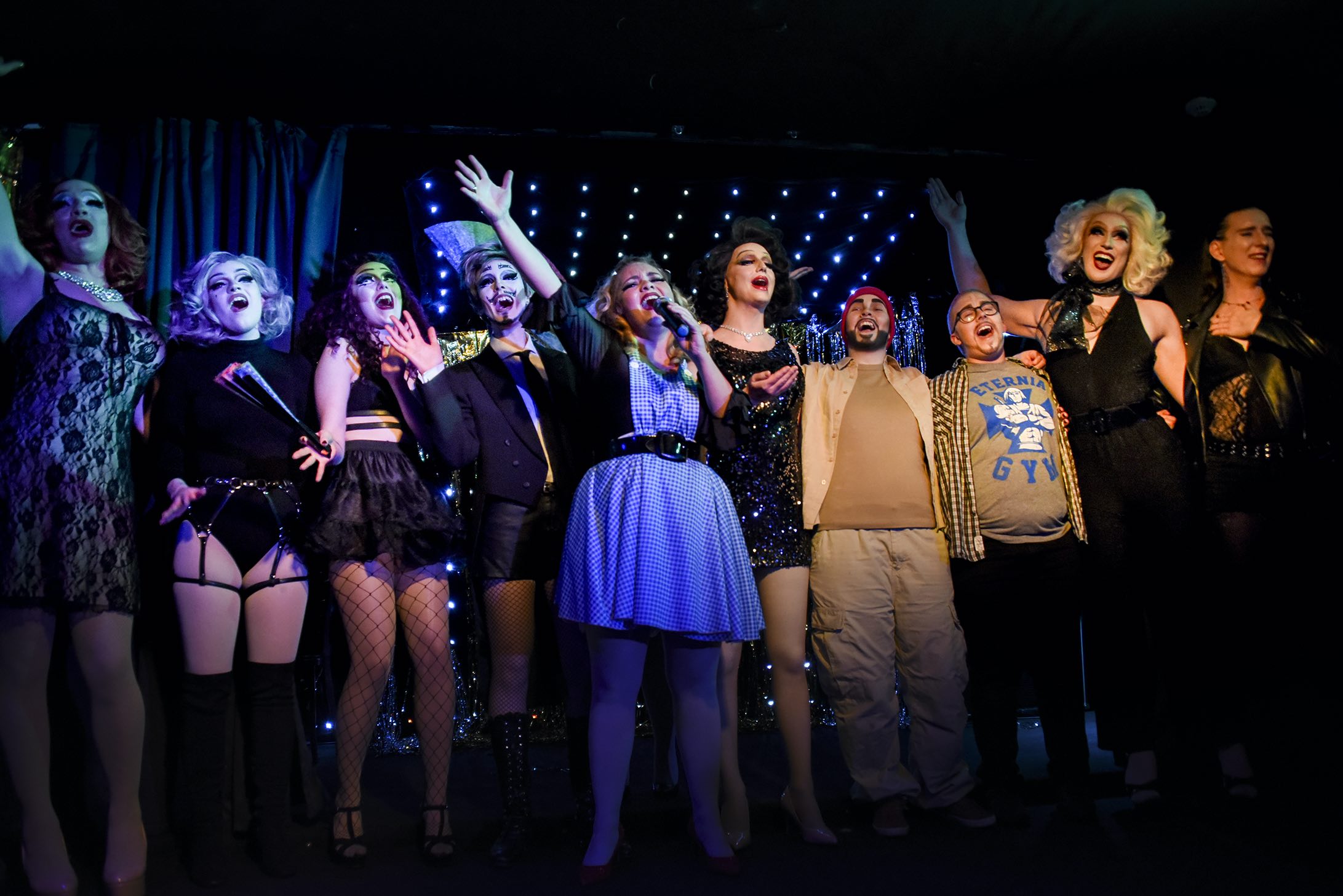 [The Drag-Súgur group gathers for a final sing-along]
— — —
Do you support Vía?
Vía counts on your support. By subscribing to Vía you contribute to the future of a medium that specializes in, and puts emphasis on equality and diversity.
Vía, formerly known as Flóra, was founded 4 years ago for critical readers that want to dive underneath the superficial layer of social discussion and see it from an equality, inclusion, and diversity perspective.
From the beginning, Vía has covered urgent societal topics and published issues and articles that have shone a light on inequality, prejudice, and violence that exist in all layers of society.
We emphasize publishing stories from people with lived experiences of marginalization.
Every contribution, big and small, enables us to continually produce content aimed to educate and shine a light on hidden inequalities in society, and is essential for our continuing work.
Support Vía
‹
›